Your Local Twin Cities Gutter Cleaning Pros!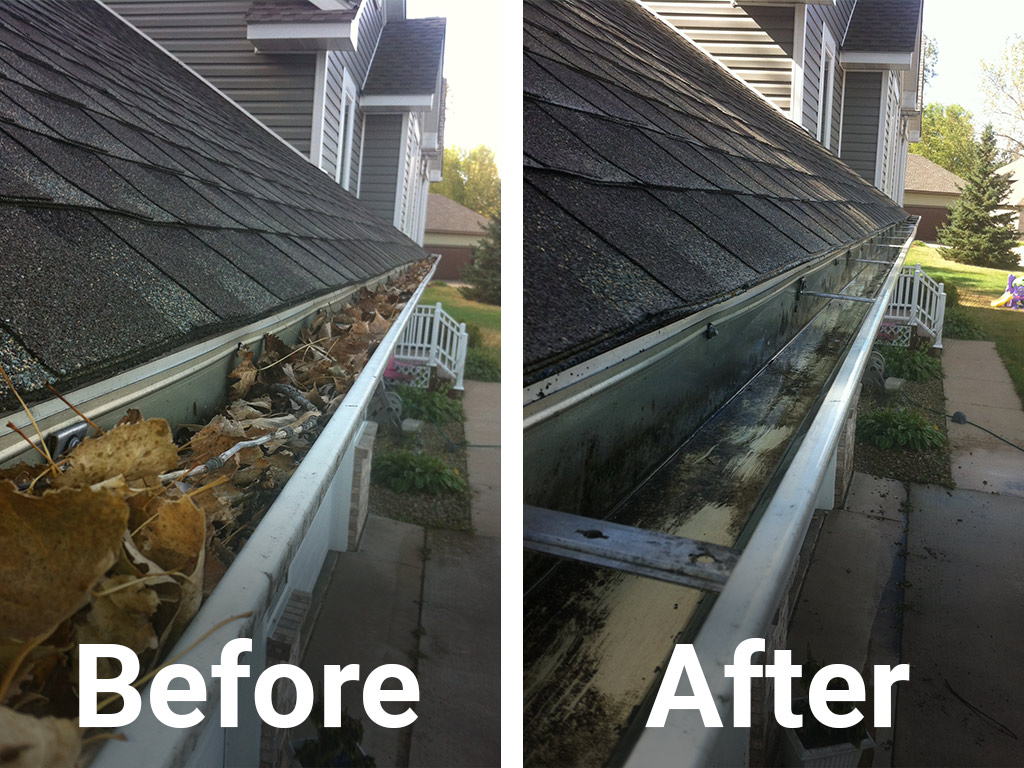 Frequently Asked Questions
Got a question? We have an answer.
How Does St Paul Gutter Cleaning Clean Gutters?
Your assigned crew will arrive at your home ready to go with our own ladders, hoses and bags on the day you are scheduled.
The team will hand clean all gutters and downspouts. Then the gutters system will be flushed out with our hose which will be hooked up to your water source. If water is not available air pressure will be used to check the proper flow of the gutters and leaders. Any leaks or repairs will be noted on your 7 Point Inspection and you will be promptly contacted to further discuss the problem. 
All debris will be removed from your guters, bagged and taken OFF SITE so that no mess is left after your job is complete. 
When Should You Clean Your Gutters?
We recommend cleaning your gutters twice per year: late spring/early summer mid to late June after all the seed pods, blossoms; "helicopters" are done falling. These will clog gutters as well as the leaders and any underground drains on the system. These seed pods will soon germinate and you will have trees growing out of your gutters! and late fall/early winter late October,
after most leaves are done falling, before we freeze over in the Twin cities. This will help protect the gutters over the winter months and help eliminate the risk of Icd Dams forming. 
How can you provide a quote if you don't come out to look at my home?
We have mastered the services that we provide to our customers and have put systems in place to make it easy for both our team and our customers!
Most residential services can be quoted right over the phone! One of our office staff will look up on your home up on Google Maps, and then ask you questions about the property that can help us give you an accurate price for the job.
For complex jobs, properties we can't see online, or some other services may require an in-person assessment for a quote.
Would you prefer an in-person quote? Not a problem!
Give us a call, and we will set an appointment for a crew leader to meet up with you about your project!
How Can I Avoid Having To Clean My Gutters?
Lions Share installs both aluminum gutter screens and permanent gutter guards, however, the best way to ensure clean and working gutters is by regular cleaning. This is similar to changing the oil in your car, you can always prolong the oil change, however it always needs to be done. During the routine maintenance the technician will test and locate any problems that need attention. Upon discovery of any problems you will be promptly notified

What Do Our Customers Say?
Don't just take it from us, let's hear from some of our happy customers!
"They called ahead exactly when I expected and arrived on time. A crew of two men worked efficiently to clean the gutters and windows. They did excellent work, and though I have more than 90 windows, they were done within 2 hours. Money well spent!!"
Karen M.
"It was excellent! Every contact that I've had with the company is always very, very customer service oriented. They are so friendly and super easy to talk to. They always go above and beyond to answer all of my questions and they do not rush me. They are very good at explaining things to you and also are very comfortable with you watching over the work that they do. They are so pleasant to work with!"
Sue O.
"Outstanding! They arrived early, talked with us about any special requests or concerns, went right to work and did an excellent job on both the gutters and windows."
Carl C.
"I received a mailer and gave them a call.  The office staff was pleasant and professional, and they were able to get the work done when I needed it, letting me know that I could call back to reschedule if there were still leaves on the trees as the date approached.  They were able to give me a quote over the phone by looking at Google earth — it couldn't have been easier.  It rained on the scheduled date, so they showed up the next day, without my having to reschedule it.
I shared their name with my next door neighbor, and they will be doing her house next week. "
Clare L.
"They arrived early (and called first to ask if that would be okay with me), and I walked them through the house pointing out the windows I'd chosen for washing.  They work in tandem – one person cleaning the outside as the second person cleans the inside so they can catch every little spot.  The also remove and clean the screens.  The windows look great!  This is the second year I've used Gutter Cleaning St Paul for windows, and I expect to call them again in the future!"
Kristin B.
"The two young men were very professional, got right to work, did a quality job, and wrapped things up nicely. I'd hire GCSP again."
Candace K.
Associations and accreditations
Don't Be Shy
Did we answer all your questions? If not, feel free to drop us a line anytime!
Need a Gutter Cleaning Service In The Twin Cities? Or Gutter Guards?
Time & Cost Effective – Our crews are on time, every time. You can feel confident knowing our professional and friendly staff is on site. Have any questions on pricing? Call us at (651)-330-2810 and our office staff will guide you through an over the phone estimate.
Professional Service – Gutter Cleaning St. Paul has over a decade of experience in Cleaning Gutters and Installing Gutter Guards in the Twin Cities !
Friendly and Easy to Deal With – Have a problem with your Gutters? Let us help you fix it.  Give us 48 hours notice and we will send a technician over for a one-time cleaning!
You Can Trust Gutter Cleaning St. Paul – Gutter Cleaning shouldn't be a hassle! Let us deal with this task so you can focus on more important things in your life. Call today and set up an appointment for a free estimate (651)330-2810
We use a unique water-fed pole system to clean exterior windows. These poles can reach up to five stories. 
You can trust us to deal with all your Gutter Cleaning needs!